Tuesday, September 23, 2008
... for "DUH"!!!!!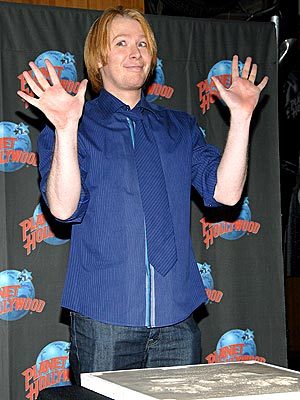 I guess Clay Aiken was the last to get
this news
...
Mused by

Carrie Hotchkiss
at 6:59 PM
2 comments

Thanks to Keith Olberman for doing his part to de-rail the Not-So-Straight Talk Express.

Mused by

Carrie Hotchkiss
at 5:27 PM
0 comments

Thursday, September 11, 2008
I got sick at the beginning of school each year when I taught high school. It started innocently enough with a bad cold, but always turned into a raging upper-respiratory infection. Amazingly enough, the past two years that I've been at home, I haven't gotten sick in the fall. Well, now that I've gone back to work, I'm sick again. I wipe snotty noses all day, and even though I wash my hands religiously (as in, after each wipe!), I have managed to come down with crud. On Tuesday afternoon, my throat suddenly started hurting, in the way it does whenever I'm coming down with something. Oh no, I thought. Sure enough, by bedtime, I felt awful. I had to take yesterday and today off from work, and will have to take tomorrow off as well. I hate using up my sick days so soon, as I know I will need them so that I can stay home with W when he's sick... But I also know that I wouldn't appreciate it very much if one of W's teachers came to school in a state similar to my own, so I'm affording that same courtesy to my own students.
I'm heading to the doctor tomorrow. If it has turned into an URI, I will have to get some serious meds to knock it out so that I will be fit for work on Monday.
Sigh.
Other than that, the new job is great, and W really likes school. He takes his nap in his own little bed in the nap room without the help of a pacifier. Amazing. Of course, he wouldn't dream of going sans-Nuk at his own house, but I guess it's a step in the right direction.
Mused by

Carrie Hotchkiss
at 6:30 PM
3 comments

Friday, September 5, 2008
We don't have cable, so I miss out on catching The Daily Show on a regular basis. I do love Jon Stewart, though, and this clip is just too good not to post! Mom and Dad, this is especially for y'all.

Mused by

Carrie Hotchkiss
at 3:43 PM
0 comments