Mad props to Joe Biden for keeping his cool last night. He's known for his temper and tendency to say things that, while often true, can be inappropriate. It was entirely within the realm of possibility for him to tell Sarah Palin to go back to the Barbie Arctic Dream House. Each time she winked, I threw up in my mouth a little.
Here's a flow chart of Sarah Palin's debate strategy, courtesy of
adennak.com
, via
huffingtonpost.com
.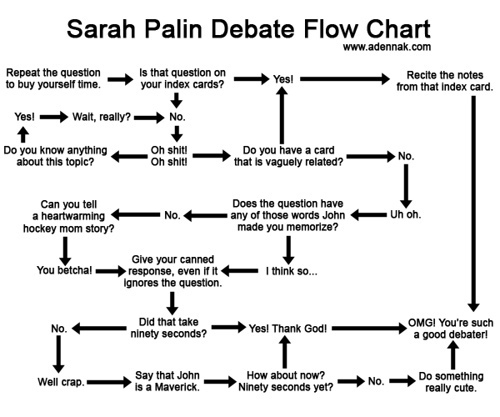 On another note, work is going really well. I'm enjoying it a lot, and W seems to really like school. Each morning, when we pull into the parking lot, he gets all excited and claps his hands and squeals. He really seems to be adapting well to this big change. He is also really interested in the toilet. He isn't ready to be toileted (the Montessori term for "potty training"--we train dogs, not children!) but he is definitely interested in it. We got him a little potty for his birthday and he's been sitting on it each night before his bath. Well, for the past four nights, when he's sat on it, he's peed. He is so proud of himself, and we are really happy for him, too. A step in the right direction!
It's definitely becoming fall here. The trees are changing to beautiful autumn colors. That's one of the things that I definitely prefer here in New Jersey as opposed to Mississippi--SEASONS!